1. SEO recommendation #1 – Statistics
Numbers tell stories. We look for numbers because they help us light a pathway or show us where we should focus our scaling efforts.
Steven Macdonald is an SEO expert with proven stellar track records. He is also a three-time nominee for "Best SEO Campaign", twice for "Best SEO Team" and once for "Best Content Marketing Campaign" at the Global/ US/ EU Search Awards.
Steven shares great SEO recommendations on his LinkedIn account which I strongly encourage you to follow.
In one of his latest posts, Steven talks about a strategy that works in every industry and is a "goldmine for backlinks": writing statistics-focused content.
Why? Because writers crave data.
Here is Steven's process for writing statistics content:
1. Find a topic that relates to your product category
2. Curate *current* stats on that topic into one piece
3. Create a story. Make it engaging (don't just list a bunch of stats)
4. When quoting stats, always link to the original source
You could publish a stats piece right now and earn links, but the real value lies when you combine stats AND original research
So, step 5: Include original research
Do you want to increase your reach even more?
Here's an extra tip from Steven: find the missing statistics in your industry.
Writing statistics content is a great strategy and I've seen many companies earn hundreds of backlinks and a ton of website traffic, I imagine, with blogs that curated numbers.
What I would add to Steven's recommendation is to do a quick search on the content that already ranks on Google and pay attention to the numbers in the title.
If there are titles like 10 ways to grow your engagement rate on Facebook posts, then what you want to do is up the ante and go bigger with a title like 25 ways to grow your engagement on Facebook posts.
You need to stand out among the content that's already ranking in searches.
Here's an example: 10 Valuable Marketing Quotes and Insights From Experts
2. SEO recommendation #2 – Original research
In another post, Steven recommends original research as an effective SEO content strategy to increase website traffic.
In the last 12 months, he has used original research to earn backlinks from HubSpot, Magento, and The Telegraph.
These sites are big and their content ranks high in Google searches so earning a backlink from any of them has a huge impact on organic search performance.
The first company I've seen applying this strategy and winning big is Buzzsumo with their 2017 article on Facebook video engagement which they wrote after analyzing 100 million Facebook videos published in the previous year. It's original research content which earned them thousands of backlinks.
The internet is full of fluff content, with the same ideas coming up again and again. It stands to reason that people are looking for original research content which bring s a fresh perspective or the latest insights on a particular topic.
But how do you do original research if you're not a research company?
Here are Steven's tips:
1. Use your own data and publish the findings based on how companies in your category use your software (i.e. The average ROI from email marketing based on 1 million campaigns is $X);
2. Send out a survey to your customers, ask questions about industry trends and then publish the answers on your website (55% of businesses plan to increase spend in CX in 2021);
3. Analyze sites in your industry, record best practices/mistakes and then publish that as research;
4. Run a targeted poll on social, collect the results and publish them in your content (i.e. 32% of B2B marketers struggle with demand generation);
5. Partner with a big brand in your space and together, create a unique report on usage, shared-data or engagement (i.e. Based on 10 million data-points, the average sales cycle for enterprise SaaS is X, finds new Brand Y & Brand Z study).
You may think you don't have the necessary resources. Take a step back and look at your company from a vantage point.
Here's what I'm talking about: email subscribers, leads, customers, Facebook group members, LinkedIn connections, Instagram followers, social media contest participants, employees etc.
3. SEO recommendation #3 – Roundups
We all want to rank high on the first page in Google search results and focus our efforts to achieve this objective.
But you shouldn't overlook traffic from social media.
Sharing links to your latest blog on your personal account, company page, group or story is good practice. Every marketer knows that the work doesn't stop when you hit Publish.
Social media platforms don't support posts that encourage the user to leave their sites because they're losing the opportunity to show users ads, therefore, bring in revenue.
But with smart copy, you can get your audience to click on the link and read your piece. In fact, for many companies that rely on fresh content, social media is their second traffic referral.
What you can do to boost your website traffic from social media is to write roundup content.
Round up content is where you put together quotes, insights or other pieces of information from a number of industry experts.

There are a number of ways you can get the information you need. You can invite the experts to answer your questions or you can browse their content and extract what you need.
After you've finished the article, share the link to your content on social media and tag the experts you are quoting in your material.
This will get their attention and they will hopefully share your content with their community. It will help raise awareness of your content, earn clicks to your roundup article and increase traffic.
It's also a great way to reach an audience that you might not have otherwise.
4. SEO recommendation #4 – Use unique images in your content
Here's a third recommendation from Steven, one he calls "an often-overlooked marketing tactic": include unique images in your content.
Why? Because people look for images on Google.
Do you want to know more about a specific business framework?
Instead of reading a 1000-word blog, you could search for PESTEL analysis, for example, on Google images and find illustrations that communicate the essence of this business framework in a beautifully designed image. If you need further information, click on the image and voila! you're a new website visitor.
Should all your blogs include unique images?
Yes. But if you don't have the necessary resources, you should do a selection.
Here's the process Steven uses:
1. Find your most linked-to blog post (Ahrefs > Pages > Best by links)
2. Hire a designer and replace all assets with new, unique images
*The next 2 steps are crucial*
3. Give the image an SEO-friendly file name (i.e. linkedin-post.jpg).
Upload it
4. Use the same file name as the image alt text (i.e. LinkedIn Post)
5. Click SAVE. Repeat this process for at least 10 more posts
As Steven puts it, "Good design doesn't compete with copy. It makes it better."
5. SEO recommendation #5 – People also ask
Google search bar is not the only information source where marketers discover what people are looking for, what they want to read and what problems they are looking to solve.
What marketers should take into account when writing a piece of content is the questions in the People also ask box.
People also ask is a Google feature that answers questions related to the user's search query. In this feature, Google shows the answer to one question with a clickable link to the source.
It's a good SEO strategy to write content that answers people's questions. So all you need to do if you want to write content that people want to read is discover what questions people are asking and include your answers in your content.
People also ask is a great source for new content generation.
6. SEO recommendation #6 – Google's Page Experience Update
In 2020, Google announced the rollout of a new update that will influence websites ranking in search results. The update focuses on page experience signals.
Here's what Google says in the announcement:
These signals measure how users perceive the experience of interacting with a web page and contribute to our ongoing work to ensure people get the most helpful and enjoyable experiences from the web.
The new page experience signals combine Core Web Vitals with our existing search signals including mobile-friendliness, safe-browsing, HTTPS-security, and intrusive interstitial guidelines.
The update will roll out in June 2021.
The page experience update is important because Google plans "to test a visual indicator that highlights pages in search results that have great page experience."
What does this mean for companies looking to drive website traffic from Google search results?
The pages highlighted by Google as having a good page experience will rank before the pages with no such indicator.
I'll let Greg Gifford, experienced local SEO consultant tell, you more about Google's upcoming Page Experience update:
7. SEO recommendation #7 – Optimize content for click-based signals metrics
One of the subjects that SEOs have been debating over for a long time is whether or not Google uses click-through rate in its ranking algorithms.
SEO expert Cyrus Shepard argues in his piece on the Moz blog that this debate misses the point.
We shouldn't ask ourselves if Google uses clicks for ranking, we should assume Google uses clicks for rankings.
In his article, Cyrus provides an in-depth analysis of a patent Google published recently called "Modifying search result ranking based on implicit user feedback."
According to Cyrus, Google uses 3 types of clicks to calculate engagement metrics for SEO.
Here they are as described by Cyrus:
More Clicks ("High CTR"): earns you more traffic no matter your rank, and initial clicks form the basis of all subsequent click metrics.
Improved Engagement ("Long Clicks"): almost always a positive sign from your users, and often an indicator of quality as well as being correlated with future visits.
User Satisfaction ("Last Click"): the holy grail of SEO, and ultimately the experience Google strives to deliver in its search results.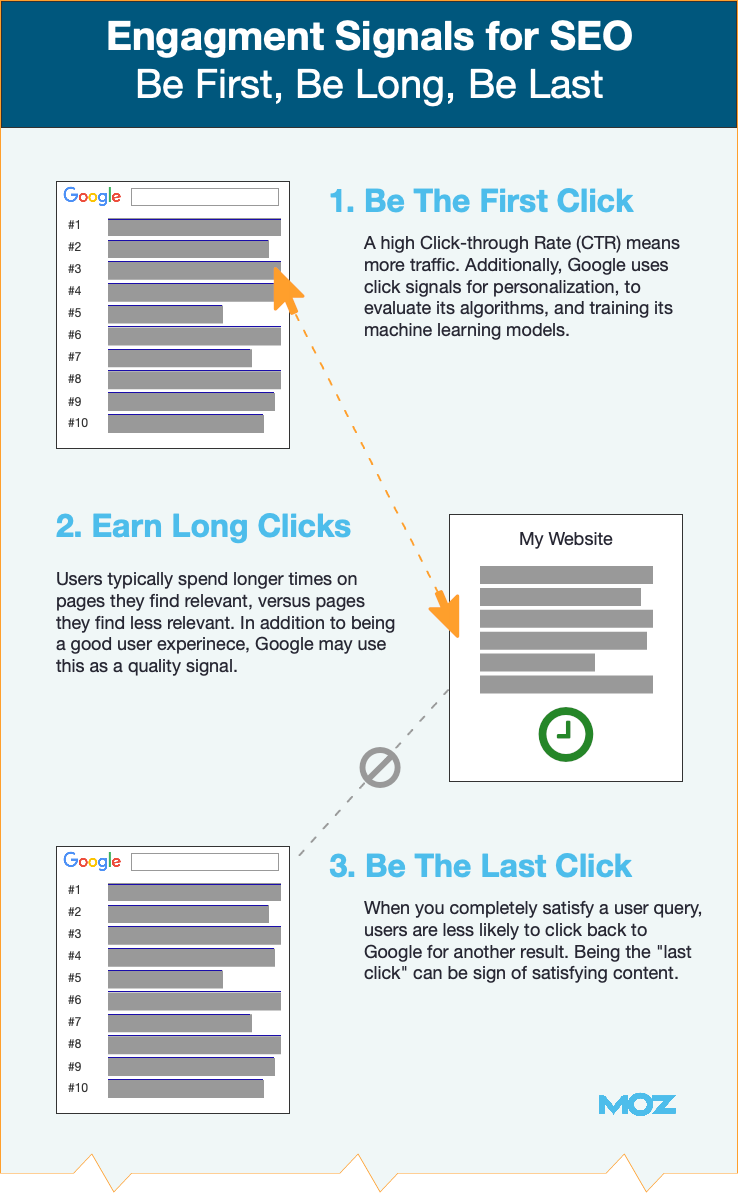 8. SEO recommendation #8 – Updating high-performing content
John Bonini, Director of Marketing at Databox and a marketer with 10 years of experience, says this in a LinkedIn post:
"If you've been blogging for more than 12 months, your biggest short-term growth opportunity is *not* publishing new content.
The biggest opportunity?
Updating the "old" stuff."
What John recommends is not updating any old posts. He has perfected the selection process for updating content and found 3 types of content that should be updated:
The Biggest Losers: Content that's decayed at a high traffic volume.
The Almost Famous: Content that's currently ranking on page 2.
The Nobodies: Content that's targeting high-intent, high-volume keywords that are not ranking at all.
If you want to learn more about John's content updating process, connect with him on LinkedIn.