from Google There's more to content marketing than just creating new content. A crucial tactic content marketing experts need to consider is updating and republishing their old blog posts.
Among other benefits of content marketing, blog updates drive SEO and broader business value such as:
Saving time
Boosting content relevance
Helping content rank
Driving traffic
For instance, a recent blog post that Venngage updated resulted in a spike in the registration rate from 7% to 14% in a span of 4 weeks.
You wrote it years ago. It did well at the time. People liked it …they clicked and opened, commented, and shared. But your readers moved on. And you never looked back.
Maybe it's time to revisit that old blog post, update it, and promote it again.
Updating old blog posts has been one of the most effective SEO strategies we've found.
We're not the only ones.
We've included this question in our annual blogger survey: "Is it part of your strategy to update old articles?" Every year, more bloggers answer yes.
The bloggers that update past content are three times more likely to report "strong results" from content marketing. It's a powerful strategy for any content marketing program.
Why is it so effective to update old articles?
There are at least five reasons to update an old post then write something new:
The topic has been vetted because you have data from the first version
It's faster to make because some of the research is already done
It's higher quality because the updated article goes deeper into the topics
It's easier to promote on social media because you'll know just who to share it with
It may rank higher in search because the URL may already have backlinks and authority.
In other words, you'll get better results with less effort.
Here is our guide for updating content. We'll show you which posts to revisit, how to update them, and finally how to promote updated content. By the time you get to the examples below, it will already be obvious just how effective this content strategy can be.
Which blog posts should you update?
This works well if you've been blogging for a while. You have 100+ published articles. You've been checking Analytics and you know that some blog posts are getting 10x the results of others.
Our goal is to push more articles into that 10x results category. Certain types of articles have the best opportunities to become big winners:
Articles that almost rank high. They could become traffic magnets with a little boost.
Articles that are already high-ranking traffic magnets, but at risk of being surpassed by rivals.
Articles that created a lot of buzzes when they were first published
Research articles that have gone out of date
Update articles that rank well but are starting to slip
Now that we know exactly which articles need a little love, and which posts to update for SEO impact it's time to start improving them.

Here's what it looks like:
Another way to monitor changes in rankings is with SEO software, such as SEMrush or Moz. These aren't free, but they'll give you a report that you won't find in Analytics or Search Console: changes in rankings for specific keywords over time.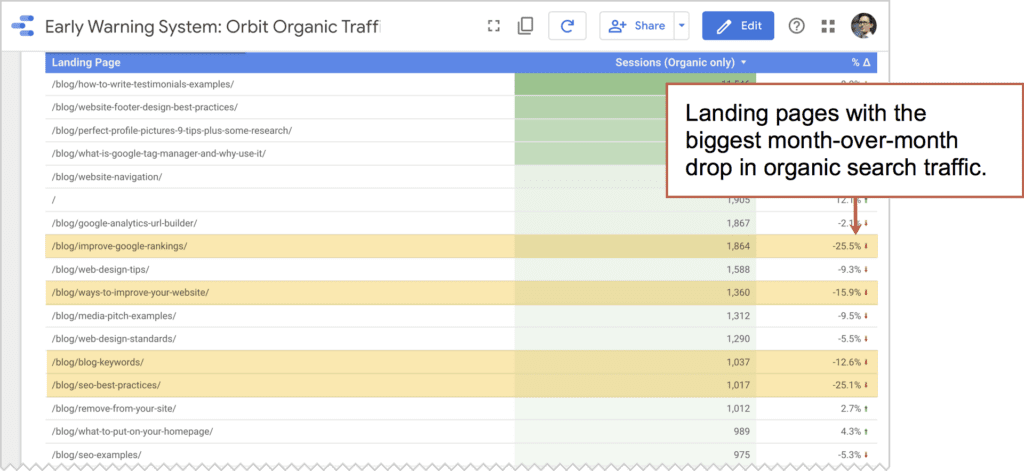 If you like building reports, you can set this up in Google Data Studio, which is easier to scan. I called my report an "Early Warning System." It shows which landing pages have declining traffic from search month-over-month.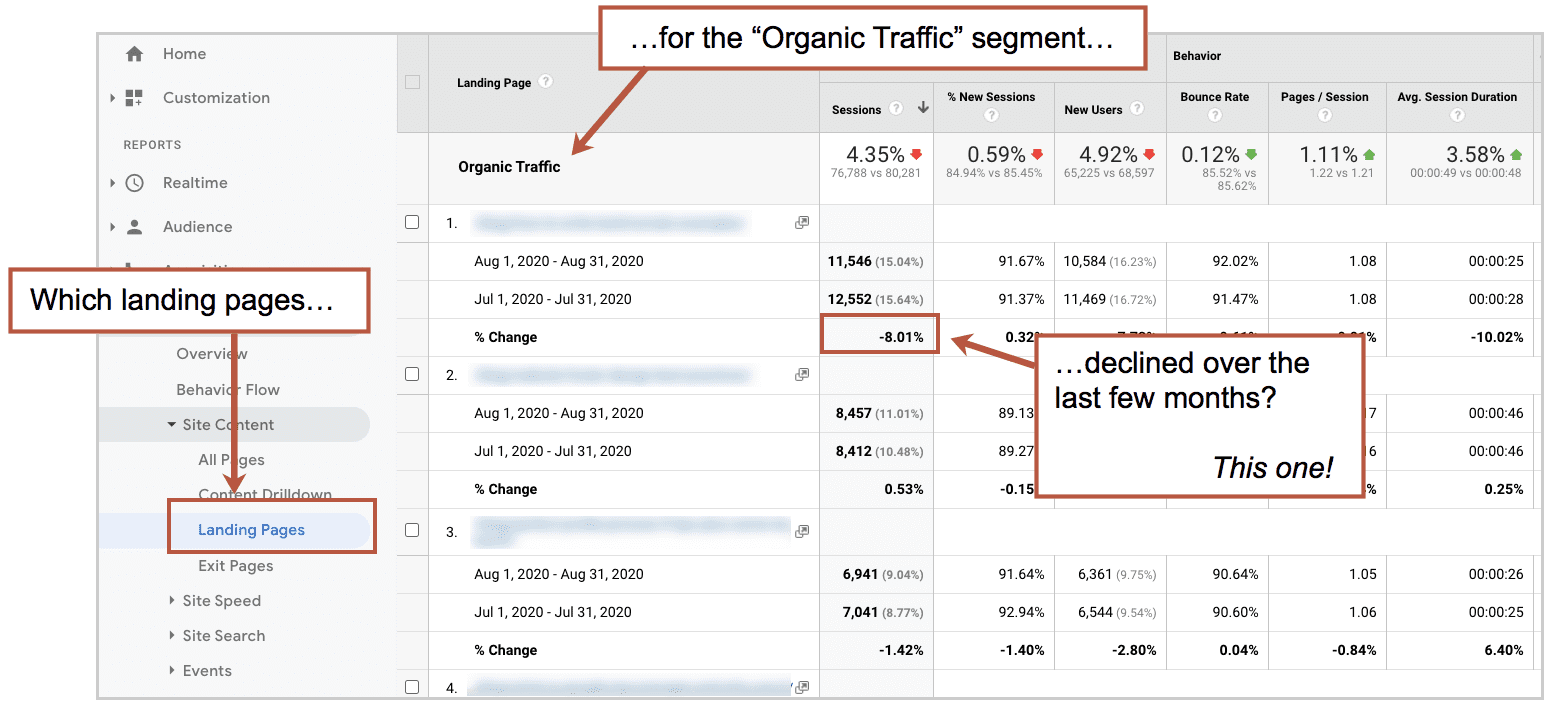 That's fine, but not ideal. That traffic may not be from search and those pages aren't necessarily landing pages. Far better to go to Behavior > Site Content > Landing Pages report, add a segment to see just Organic Traffic and then compare traffic to a previous period.
This is the second big SEO opportunity. There are two ways to find them. The first is traffic. Just check changes in traffic overtime to any page in the Behavior > Site Content > All Pages report.
What is URL Recycling?
By writing a new article where an old article used to live, you are basically recycling the original URL. If that URL has been linked to from other websites, you are leveraging the existing authority of that page, which could be substantial.
You can check to see if a page has been linked to using Google Search Console, which shows you the number of domains that link to a given page.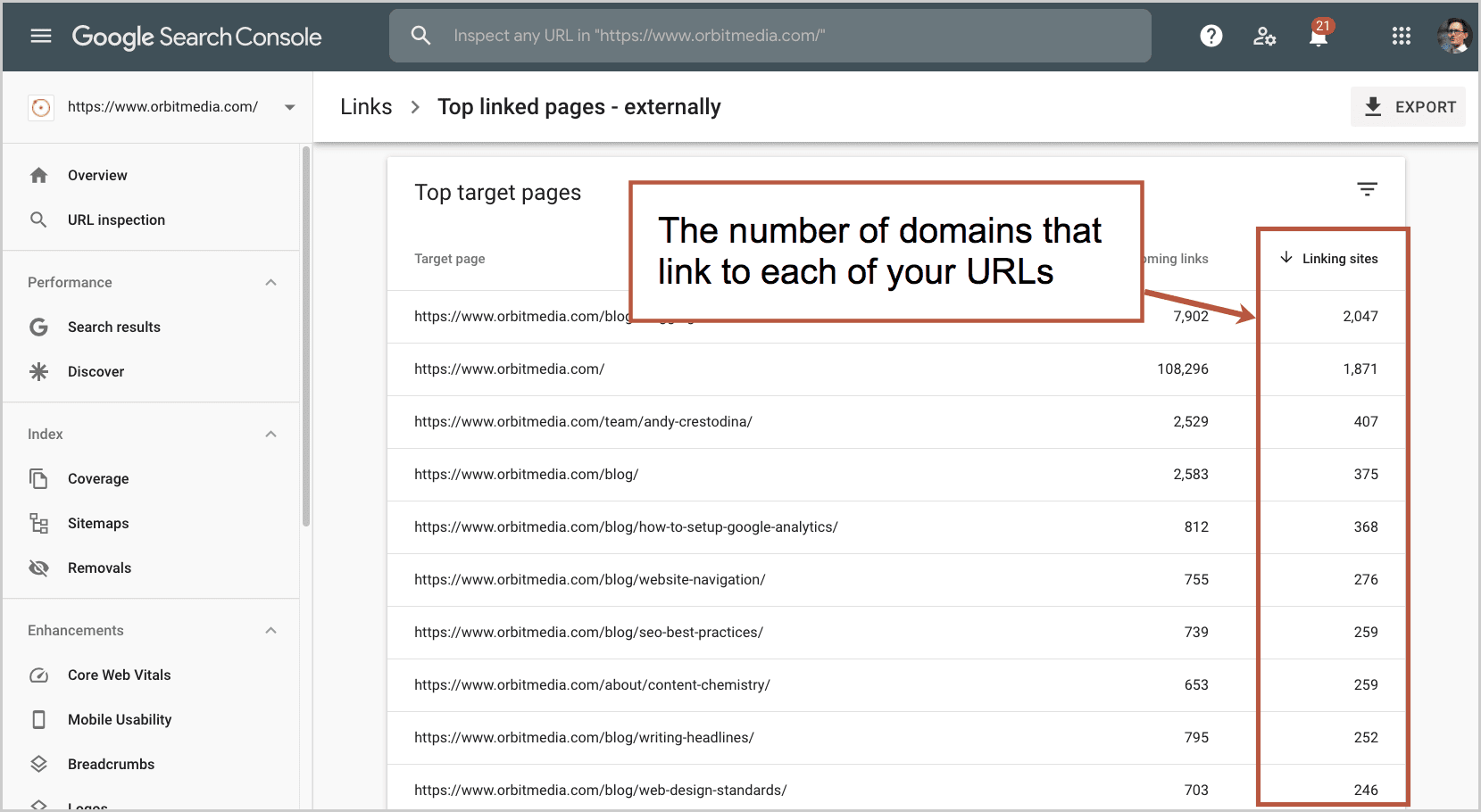 Or you can use SEO software to count the links and estimate the authority of that page. This should give you a better idea of the ranking potential.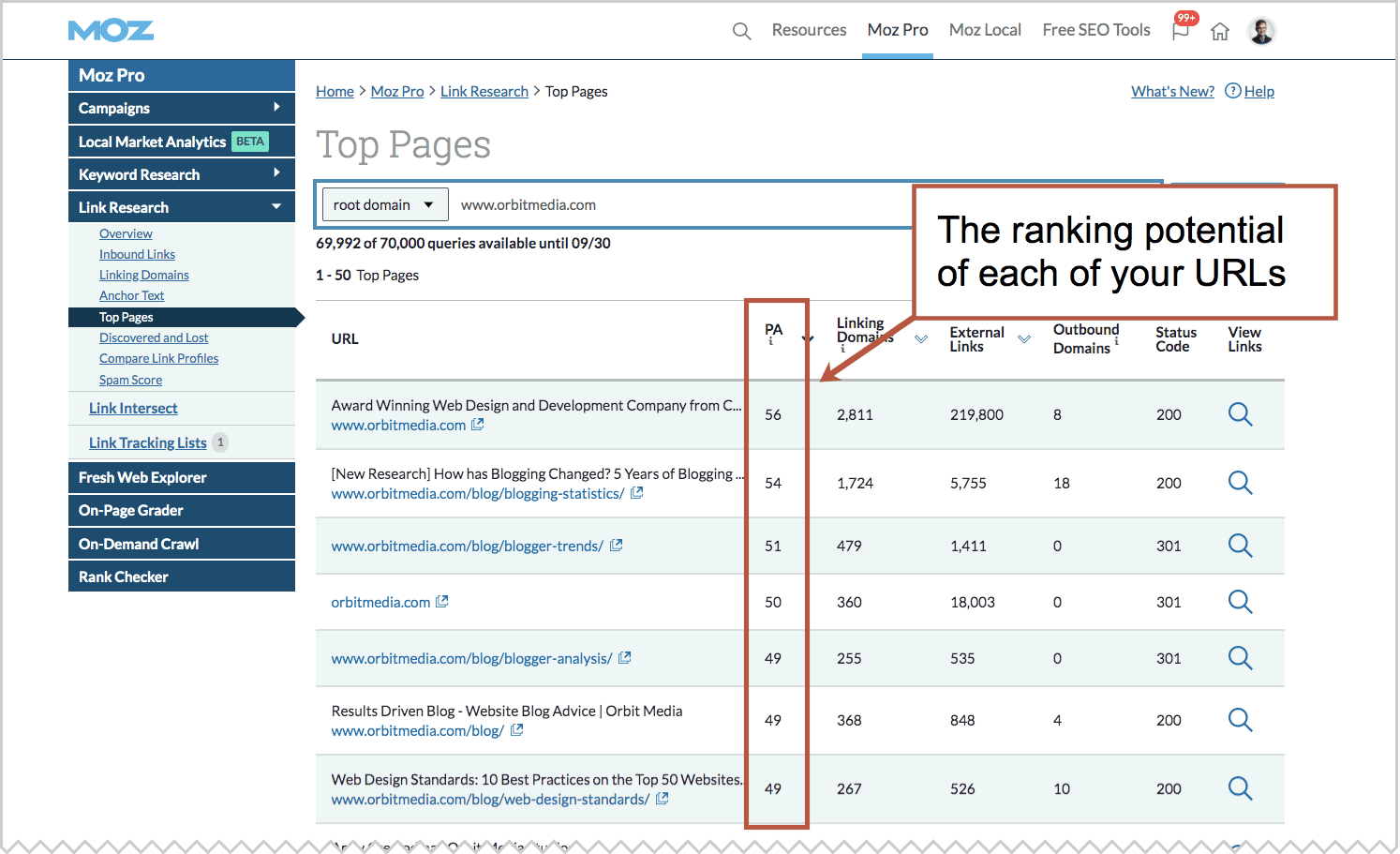 Either way, by reusing an old URL, you can target keyphrases that would otherwise be out of reach for a new post. The URL is "pre-authorized" to rank well if it has been linked to by other websites. The foundation is in place to build higher.
With this in mind, I can imagine a two-step SEO strategy, based on building then recycling URLs.
Publish short-form content that is likely to attract links (infographics, strong opinion, quick research pieces). Don't worry too much about on-page SEO.
After the URL has attracted links (could be months or a year later) recycle it by writing a long-form keyphrase-focused article at that same address.
Now the page will have both authority and relevance, the two main search ranking factors.
This strategy might be slow (literally 1+ years) but allows the SEO to target impossible-to-rank-for phrases. See example #2 below.
URL best practices for bloggers
Once you start recycling URLs, you'll quickly realize that all new URLs should be created with this approach in mind. Make these your new rules for making URLs that are easy to reuse later:
Never put a number in a URL
Example: www.website.com/blog/7-url-best-practices
…that's bad because when updating it next year, it may have 12 best practices. If you recycle the URL, they'll be a mismatch with the title and header.
Never put a format in a URL
Example: www.website.com/blog/url-best-practices-infographic
…that's bad because you may want to publish an article on this URL later. It may not mostly be an infographic (or webinar or ebook) when you update it next year.
Every article's URL should be short, simple, and descriptive. No numbers. No formats.
This took me years to learn and Google updates too. ;)

This article outlines how you to update your old blog posts and boost blog traffic in 3 steps:
Audit and identify blog content to update
Conduct keyword research and determine search intent of relevant keywords
Optimize body for SEO and add visuals
1. Audit and Identify Which Blog Content to Update
The first step is to create a repository of your blog posts and use Google Analytics to analyze key performance metrics:
Organic sessions: Organic traffic from search engine results
Average session duration: Amount of time people spend on your website
Bounce rate: Percent of visitors who leave your website without taking an action (e.g., clicking through to another page)
Other metrics you can track to measure success include:
Social shares: Number of shares a post receives on social media
Inbound links: Number of domains that link to a blog post
You might have over 100 blog posts, updating all of them is certainly not the answer. What's important is identifying the ones that are worth updating.
To choose which content is worth updating, consider:
Content with high-volume keywords but declining organic traffic: These are posts that were ranking well for high-volume keywords but have experienced a dip in organic traffic in the recent past. This can be due to a competitor's post taking over or a decline in search volume.
Content with high organic traffic but low conversions
Content with high traffic but isn't converting. By updating and optimizing them, you can aim to leverage the traffic to generate leads and increase conversions.
Well-performing content: Republishing can extend the performance of blog posts that performed well in terms of attracting traffic, shares, or links when they were published.
Outdated content: Blogs can become outdated, but have the potential to rank better if updated and republished.
2. Conduct Keyword Research and Study Search Intent for Updated Content
Once you've identified the old blog post you want to update, you need to conduct keyword research. The idea behind this step is to uncover potential keyword opportunities, helping you optimize the updated post to rank better.
Use a keyword research tool such as Google's Keyword Planner or Ahrefs to find which keywords the content ranks for.
You might realize that your initial target keywords might be too competitive, broad, or no longer as relevant. Create a comprehensive list of long-tail keywords that will drive traffic with higher search intent.
Make sure you also do a competitor analysis by analyzing the posts that rank above your blog post and evaluate the keywords they rank for. This will help you identify gaps in your content and update it accordingly to rank for additional keywords.
It's also important to check if your blog post aligns with the search intent associated with your target keywords: Type the target keyword in the search bar and analyze the blog posts that appear on the first search results page. Identify the dominant search intent in those posts.
This indicates what aspect people are most interested in knowing about and sets the foundation for the content angle you can take in your updated post.
For instance, the search results for the keyword "accounting software" relate to accounting for small businesses.
To rank for this keyword, you will need to update your content so that it matches the same search intent.
3. Update the Body and Visuals in Blog Content
HubSpot suggests 3 goals for updating blog posts:
Accuracy
Freshness
Comprehensiveness
Here is a list of on-site SEO services you can leverage to comprehensively update blog content:
● Title the content using the new target keyword
● Optimize headers, body content, and the meta description for new target keyword(s)
● Add new sections to make the blog post more comprehensive
● Add new supporting data, quotes, and statistics
● Remove links and content that are no longer relevant
● Replace content or data that is outdated
● Add internal links
● Improve readability of the post by breaking up large paragraphs, adding images, adding bullet points, and using header tags
One thing you should not change is the URL of the blog post. You also can add an editor's note stating that the article has been updated for accuracy.
Adding Visuals Can Produce Results for Blog Content
You can't expect readers to sit through large chunks of text. Research shows that the more visuals a blog post has, the more likely it is to succeed.
So, while updating old blog posts, one of the most important additions you must make is adding more visuals. However, stock photos are not always the best idea.
In fact, 40% of marketers said that original graphics performed best for them. This isn't surprising because original graphics are unique and more effective in appealing to readers as compared to run-of-the-mill stock photography.
Here are the different types of original graphics you can use in your updated blog posts to make them more visually appealing:
● Infographics
● Illustrations
● Process diagrams (flow charts, mind maps, etc.)
● Charts and graphs
● GIFs and memes
● Screenshots
● Videos
Update Blog Posts to Earn SEO Benefits from Google

Once you've republished the old blog post, make sure you promote it like a new blog post through your email marketing and social media channels.
So, don't be a marketer who creates content, moves on, and doesn't look back. It's important to constantly revisit your repository of content, analyze performance, and identify old blog posts that can be updated to boost traffic and search engine rankings.
PLUS: How to make a post on blogger?

Start by logging to your Blogger Dashboard. If you do not have a Blogger blog yet, you can follow this guide to get one.
Once in, pick the 'Posts' (#1) tab in the left menu and click on the orange 'New Post' (#2) button.
Your post is almost ready!
In the new window add a post title (#1), post content (#2) and hit the orange 'Publish' button.
Congratulation! You have now created your first post!
Accessing post options
Posts do not need to be simple. You can add images, links, make your text bold, large or in different colors. All those options can be accessed from the menu between post title and content.
Most of these tools are straightforward so I will not list them all here. The only one I would like to highlight is 'Insert Jump Break' (6 from the right on the screen above). It will allow you to display post snippets on your blog homepage.
Additional post settings can be located on the right of the post content area.
Compose vs HTML
Above the post-editing tools, you may find a switcher between visual and code version of your post. Below you can see the same post visible in those two views: Compose and HTML.
As you will notice, post-editing tools are different in both modes.
Please check our partner site at Dimepiece LA and at DOC4PI.